Manufacturers

and Suppliers of Leisure Park Inflatables
Innovation Leisure LTD are an established leisure equipment manufacturer, supplying high profile operators, such as ITV's Ninja Warrior UK, as well as building over 105 leisure facilities, including skate parks, inflatable parks and ninja obstacle parks throughout the UK and Europe.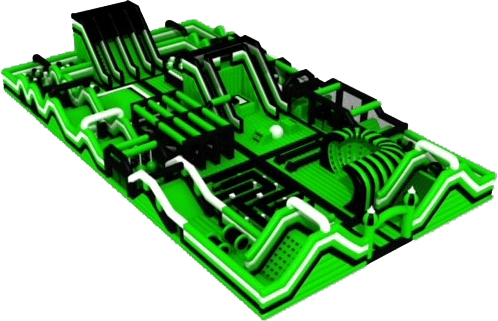 Due to high customer demand for inflatable parks, we have partnered with one of the Worlds largest inflatable theme park manufacturers that have a proven track record in producing the highest quality inflatable parks. Operating from 50,000 M2 premises, our partners can manufacture any type of inflatable, with the fastest production turnaround. And due to our committed forward purchase orders for UK clients, we have secured prices that will beat any other producer, guaranteed. We have rigorously tried and tested the materials and production process, and can assure you that these are without question the best in the industry. We will provide start to finish assistance, ensuring your new facility opens with minimal fuss and efficiently as possible.
UK based inflatable park designer, manufacturer and builder.
Our in-house design team will follow the measurements obtained from our initial site survey to produce a number of 3D rendition designs, this will allow you to visualise the inflatable theme park before production. At this stage you can choose to make any changes or additions. Our designers are experts in helping our clients achieve the best from their space and will advise you on what features are popular and in high demand.
Successful parks will utilise a large number of inflatable obstacle features that will challenge all age groups, ensuring your customers keep returning.
These features include:
Climbing walls, Warped walls, Tunnel runs, Ninja style obstacle run, Inflatable steps, Cliff hanger, Jump towers, Spider walls, Bounce zones, Giant bounce cushions, Mega slides, Swinging balls, Cargo net inclines, Maze run, Unstable bridges, Ball pools, Under 5's zone.
3D Modelling
Our design team will work with you to develop a 3D model of the park to help with visualisation of the facility before manufacture begins. We can also assist with brand identity and colour specifications.
Innovative Design
Anything from inflatable tunnel runs, mega slides and ninja style obstacle runs can be utilised to ensure the park layout creates the WOW factor it deserves.
Specialist Installation
Installation is carried out by our experienced fitting team who will provide full hand over once we are confident you are familiar with all aspects of the inflatable system.
Lifetime Support
Inflatable Parks Direct can provide an ongoing training and maintenance service in addition to our standard manufacturer's warranties.
The latest craze for leisure parks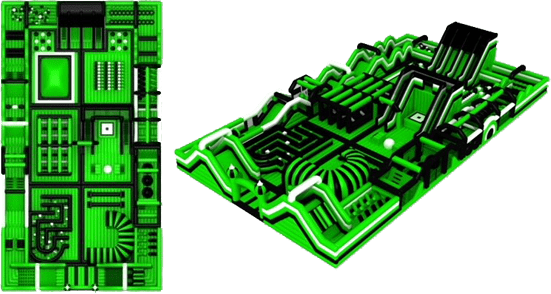 In recent years we have seen the popularity of trampoline parks and ninja warrior obstacle courses, all being hugely successful. Now we are seeing a surge in demand for inflatable theme parks. No matter what age you are, inflatables provide endless fun and in-turn huge return on investment potential.
The size of premises, and inflatable scheme will determine the number of attendees you can accommodate. 
Where You Can Generate Income
General Session Bookings
A 1200m2 inflatable can generate up to £1500 per hour
Parties & Group Bookings
Birthday parties, stag and hen parties and any group booking activities. 
Merchandise
Clothing and other merchandise such as anti-slip sock sales
Corporate Bookings
Corporate bookings for team building days. 
Food & Beverage Sales
It is typical for a well-attended leisure facility to generate 20% additional revenue on F&B sales
Inflatable Parks we have recently installed.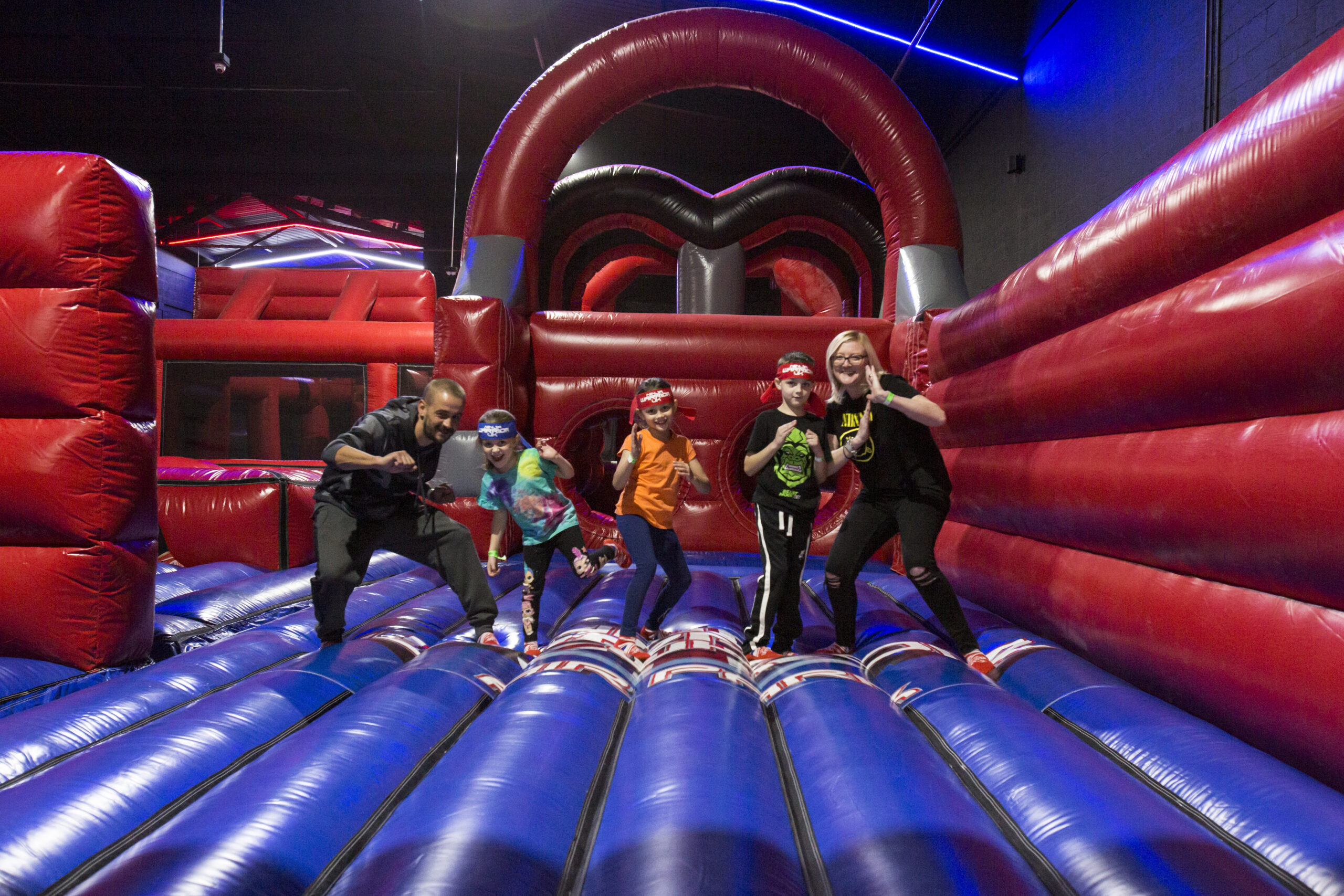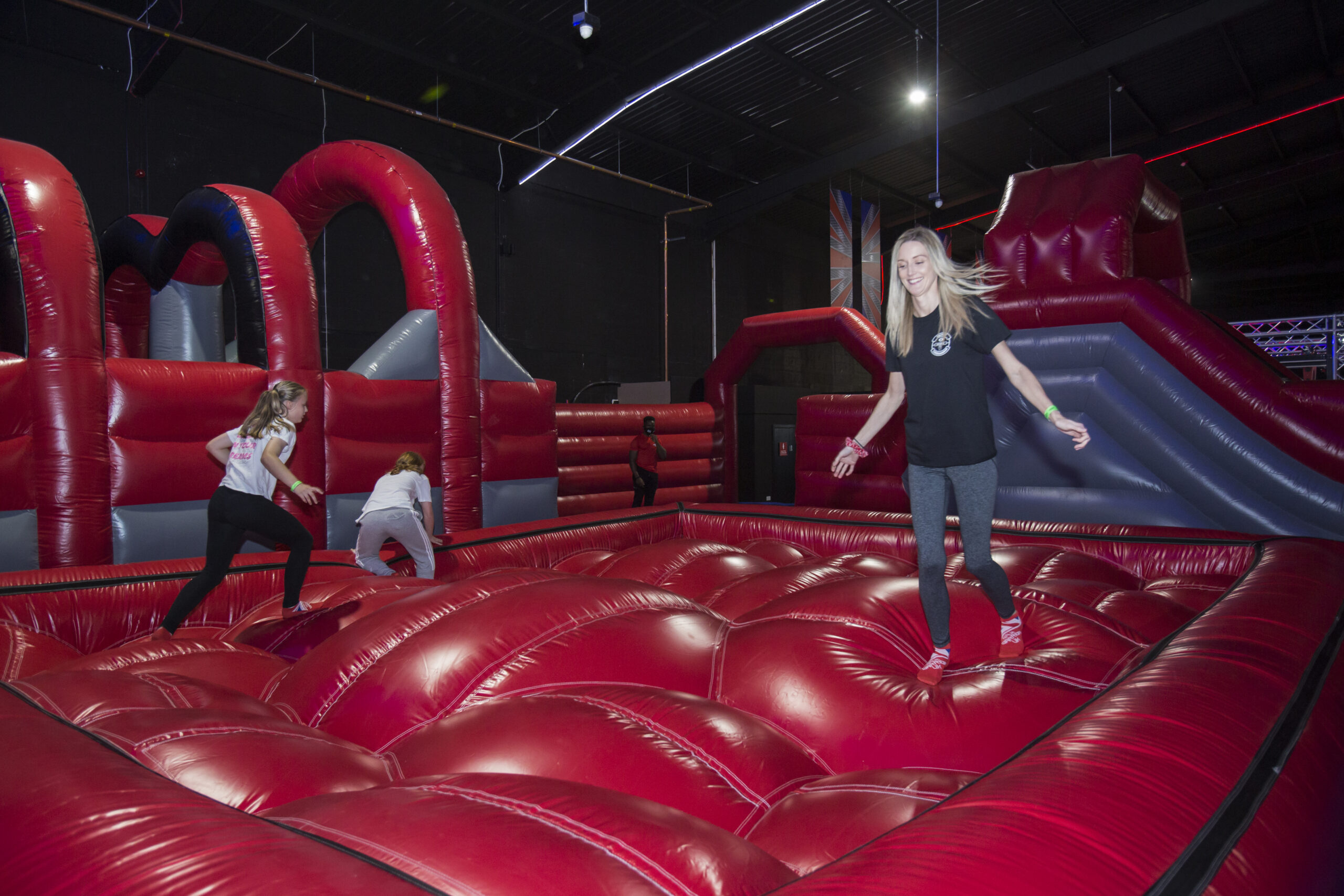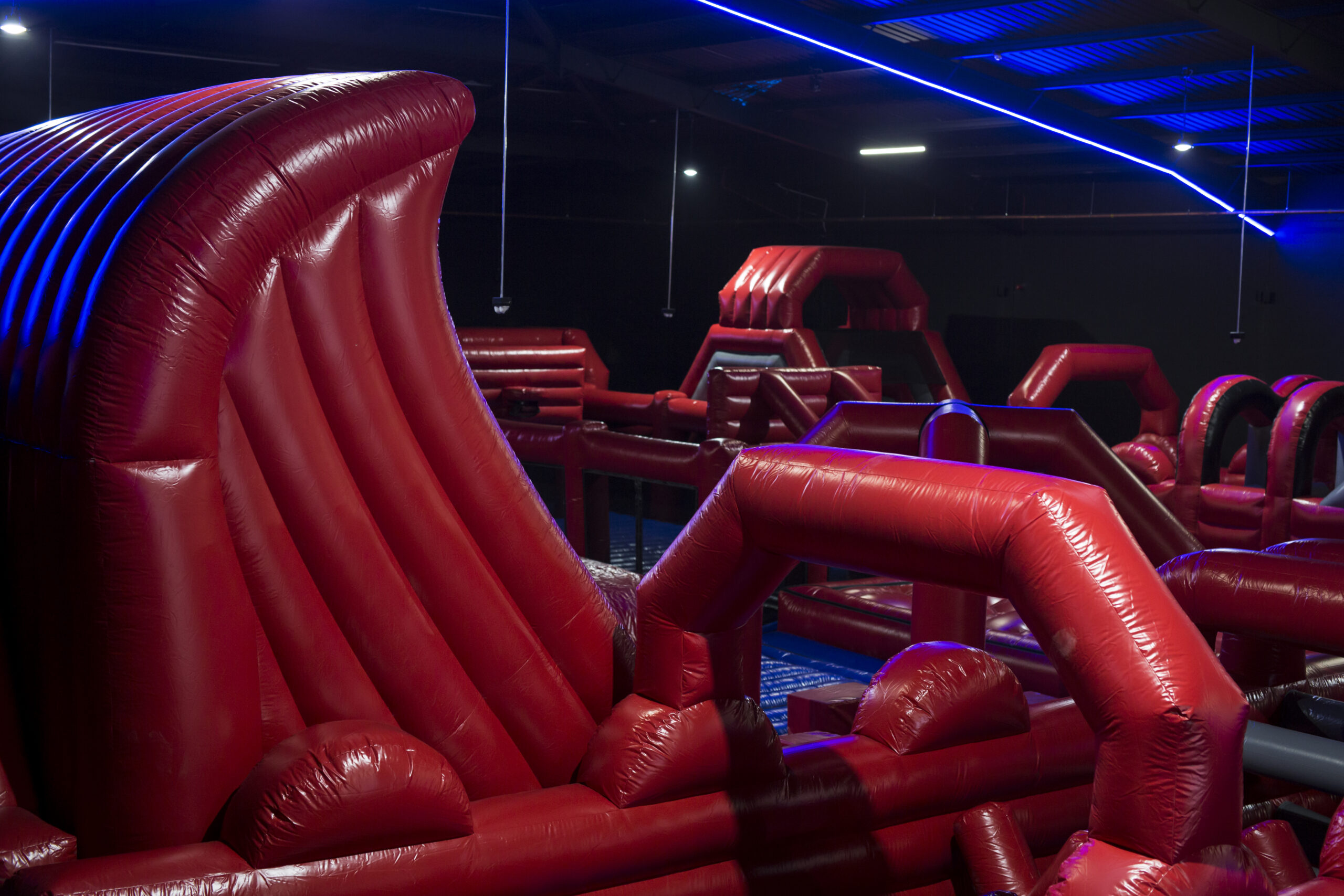 Operating your inflatable park
Ordering Made Simple
Once you have secured your leisure premises we will arrange for one of our project managers to visit and gather details relating to the project. This will include:
Full detailed measuring to determine size of floor space available for the inflatable. We can also advise on what space should be allocated for reception, customer processing and food and beverage facilities.
Establish Internal building height measurements
Electrical point requirements – inflatables require a considerable number of air blowers and its important we conduct a survey to establish the correct electrical loads and socket positioning.
Lighting and Audio requirements – we can supply full specialist lighting and audio systems at hugely discounted prices.
Target audience – We will be able to advise on what type of inflatable theme park will work best within the premises. Larger sites can accommodate inflatables with large numbers of features which will attract multi age groups. We employ the best designers in the industry and they can provide the best solution for your space.
Colours and digital print – most of our clients want their own branding, colour and style. We can digitally print anything you like onto your inflatable scheme.
Premises
It is important to choose premises with sufficient space to accommodate a reasonable sized inflatable park. Newer warehouses are built with high ceilings and fewer support columns, making them the ideal venue for an indoor inflatable centre.
Location is also a major factor, there is little point locating in an area which has a small population or does not have good transport links. The most successful parks are situated in highly populated areas with excellent road, rail and public transport facilities. Ideal premises should be 10,000 square feet or more as only 60% of the floor space will be actual inflatable surfaces.
Business Planning
From the moment you submit a planning application you should be preparing to have a park design created. You may have a specific target audience that you want to aim your services at, or it may be aimed at a wider range of users. We can help with the specification and layout of the park as well as branding and advertising.
Ultimately, the shape and size of the premises will dictate to a certain degree the type of facility achievable, however, it maybe that you want multi-level facilities which will ensure customers of all ages will use the park facilities. Our design team can demonstrate a variety of park layouts to help you decide.
Understanding the level of investment and the potential returns will help you to create a business plan.
In addition to the inflatable park you will probably be offering:
Catering and refreshments
Party facilities
Fitness packages
Corporate packages
Consumable sales
Our team of inflatable park designers will produce a dynamic, user friendly inflatable park facility using our specialist CAD design software. Working closely with our client's instructions we can produce a 3D model of the inflatable park layout for final approval.
Design work will also include communal areas, catering and dining areas and fire escape routes which will comply with building regulations.
Our service is not limited to just inflatable park equipment, we can provide a complete inflatable park set up which in-turn saves valuable time and money, this includes items, such as branding, web design, booking systems, signage, membership entrance cards, lockers, floor coverings and much more.
We can also provide assistance in other areas, pointing you in the right direction for essentials such as insurance cover and issuing the correct disclaimer advice to your customers.
If you'd like to explore any of our services in more detail, a member of our specialist team will be happy to discuss your requirements further with you. You can contact us on the telephone number below or leave a short note in the contact form to request a callback.
info@innovationleisure.com
Innovation Leisure Ltd
Unit 14 Jenson Court
Astmoor Industrial Estate
Runcorn, Cheshire
WA71SQ